DJI Mavic Mini is the lightest and most portable drone to date. Weighing in at just 249 grams and boasting a 30-minute maximum flight time, Mavic Mini is the perfect drone for anyone looking to take their creativity to the skies. To fit so much technology into the Mavic Mini drone is a tremendous feat of engineering, elegant design, and new innovation. In our Mavic Mini review, we give you a nice overview of this new mini drone and its outstanding features, its specifications along with videos and also Mavic Mini price.
The Mavic Mini was introduced on October 30th, 2019.  As per normal, DJI teased the watching public for months about this latest drone.
Specifications:
---
Aircraft
A. Takeoff Weight–
The Mavic Mini takeoff weight is 249 grams. This drone is exceptionally small in size and folds up neatly. For its size, the Mavic Mini drone is packed with a lot of amazing new technology.
B. Dimensions–
Folded: 140×82×57 mm (Length×Width×Height)
Unfolded: 160×202×55 mm (Length×Width×Height)
Unfolded (with propellers): 245×290×55 mm (Length×Width×Height)
C. Mavic Mini Max Speed In Different Condition–
Max Speed (At close to the sea level with no wind):
13 meters/s (S Mode)
8 meter/s (P Mode)
4 meter/s (C Mode)
Max Ascent Speed:
4 meter/s (S Mode)
2 meter/s (P Mode)
1.5 meter/s (C Mode)
Max Descent Speed :
3 meters/s (S Mode)
1.8 meter/s (P Mode)
1 meter/s (C Mode)
D. Max Flight Time-
The Mavic Mini FlyCam has a maximum flight time of 30 minutes, with no wind and at a consistent 8.7 mph (14 km/h) in calm conditions.
E. Max Service Ceiling Above Sea Level-
The Mavic Mini max height is 1.86 miles (3 km) above sea level.  You can read more on what exactly is max service ceiling here.
F. Capability To Fly In High Wind-
The Mavic Mini max wind speed resistance is 8 m/s. This is the equivalent to the Beaufort scale 4, which relates wind speed to observed conditions at sea or on land.
G. Different Way To Fly Mavic Mini-
Dedicated remote controller.
Smartphone connected to Remote Controller Using DJI Fly app.
Using Fly App Quickshot intelligent flight modes, which include Dronie, Circle, Helix, and Rocket.
H. Mavic Mini Firmware Update-
DJI released a firmware update to add new features or even to fix small bugs. There are 2 firmware updates released at the time of writing for the Mavic Mini.
Read Also: Procedure To Update Firmware Of DJI Mavic Mini Drone: New Features & Fix Bugs.
I. Uses Of Mavic Mini-
The Mavic Mini is a highly advanced mini quadcopter. It has exceptional flight and camera stabilization. It's easy to carry around. By pairing Mavic Mini with the all-new DJI Fly app, you can shoot stunning photos and videos and also edit them all within the app.
J. Mavic Mini FlyCam Max Video Transmission Distance-
The Mavic Mini max video transmission distance is 2.48 miles (4 km), unobstructed and in line of sight using the Remote Controller with the DJI Fly app connected. The video transmission uses enhanced WiFi.
K. Mavic Mini Video Transmission Latency-
The latency of video from the drone to your mobile device is between 170 to 240 milliseconds. This depends on the performance of your mobile device and environmental condition.
L. Resolution Of The Mavic Mini Video Transmission-
Remote Controller Video Transmission;
720p @ 30 frames per second.
---
Return To Home(RTH) Safety Feature-
This feature will bring the Mavic Mini back to the last recorded home point.  The RTH function is greater on the Mavic Mini compared to other quadcopters on the market.
They are mainly 3 types of RTH Process:
Smart RTH: This is initiated by the Pilot either by tapping 'H' in the DJI Fly app or by pressing the RTH button on the Remote Controller.
Low Battery RTH: The return to home is triggered when the battery is depleted to a point that may affect the safe return of the Mavic Mini.
Failsafe RTH: If the Home point was successfully recorded, the Failsafe RTH will be automatically activated if the remote control signal is lost for 11 seconds.
Other RTH Scenarios:If the video link signal is lost during flight while the remote controller is still able to control the movements of the Mavic Mini, there will be a prompt to initiate RTH. The RTH can also be canceled.
Note: When you receive your Mavic Mini, it is a great idea to read the User Manual, especially the sections on the intelligent flight battery,  return to home features and safety instructions.  Read these sections a few times.
---
DJI Mavic Mini Flight Modes-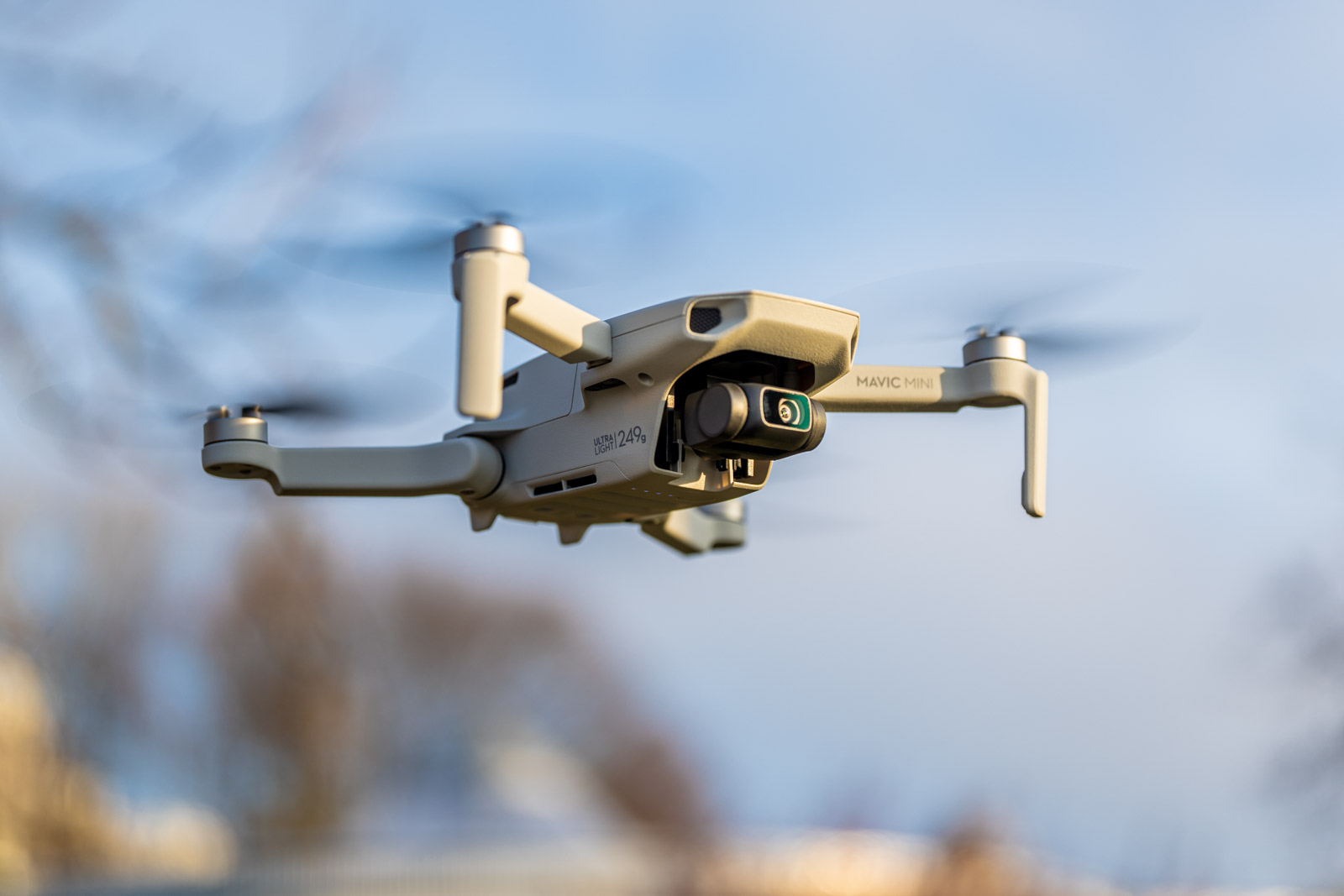 The Mavic Mini has 3 flight modes as follows;
P-Mode (Positioning) – This works best when the GPS signal is strong. It utilizes both the GPS and vision systems to locate itself, stabilize and navigate very precisely.
S-Mode (Sport) – In Sport mode, the Mavic Mini can fly at its maximum speed. Also, in S-mode, the Mavic Mini drone and remote controller are optimized for agility and speed.  The stick movements on the Mavic Mini remote controller will be far more responsive than in P-mode.
C-Mode (Cinesmooth) – Use this mode for exceptional smooth flying which is great when filming.
---
Mavic Mini Camera Review-
With a 12MP camera capable of shooting 2.7K Quad HD videos and a 3-axis mechanical gimbal, Mavic Mini provides ultra-clear, super-smooth footage of your everyday adventures.
Here is a short video, which discusses the Mavic Mini camera and shows some gorgeous output from this quadcopter.
Camera Specs:
Sensor– 1/2.3" CMOS; Effective Pixels: 12 MP
Lens– FOV: 83°;  35 mm Format Equivalent: 24 mm;  Aperture: f/2.8;  Shooting Range: 1 m to ∞
ISO Range– Video:100-3200 (Auto)
Photo:100-1600 (Auto);  100-3200 (Manual)
Shutter Speed– Electronic Shutter: 4-1/8000s
Still Image Size– 4:3: 4000×3000;  16:9: 4000×2250
Still Photography Modes– Single shot;  Interval: 2/3/5/7/10/15/20/30/60 s
Video Resolution– 2.7 K: 2720×1530 25/30 p;  FHD: 1920×1080 25/30/50/60 p
Max Video Bitrate– 40 Mbps
Supported File System– FAT32(≤32 GB);  exFAT(>32 GB)
Photo Format– JPEG
Video Format– MP4 (H.264/MPEG-4 AVC)
---
Mavic Mini Gimbal Specifications-
Mechanical Range:  Tilt: -110–35° / Roll: 35° – 35 / °Pan: -20–20°
Controllable Range: Tilt: -90° to 0° (default setting) -90° to +20° (extended)
Stabilization: 3-axis (tilt, roll, pan)
Max Control Speed (tilt): 120° /s
Angular Vibration Range: – ±0.01°
---
Mavic Mini Flight Battery Specifications-
Capacity – 2400 mAh
Voltage – 7.2V
Max Charging Voltage – 8.4V
Battery Type – Li-ion 2S
Energy – 17.28 Wh
Net Weight – 3.52 ounces (100 grams)
Max Charging Power – 24W
---
DJI Mavic Mini Price
DJI Mavic Mini price comes at $399 (approx. Rs 28,500) for the base kit. The Mavic Mini Fly More Combo comes for a price of $499 (approx. Rs 35,700) with 360° Propeller Cage, Two-Way charging Hub, three batteries in total, three sets of extra propellers and a carrying case.
---
Read Also: DJI's ambition to land-based drone